Ronnie's and me
Posted on 27th Oct 2020 by John Rosie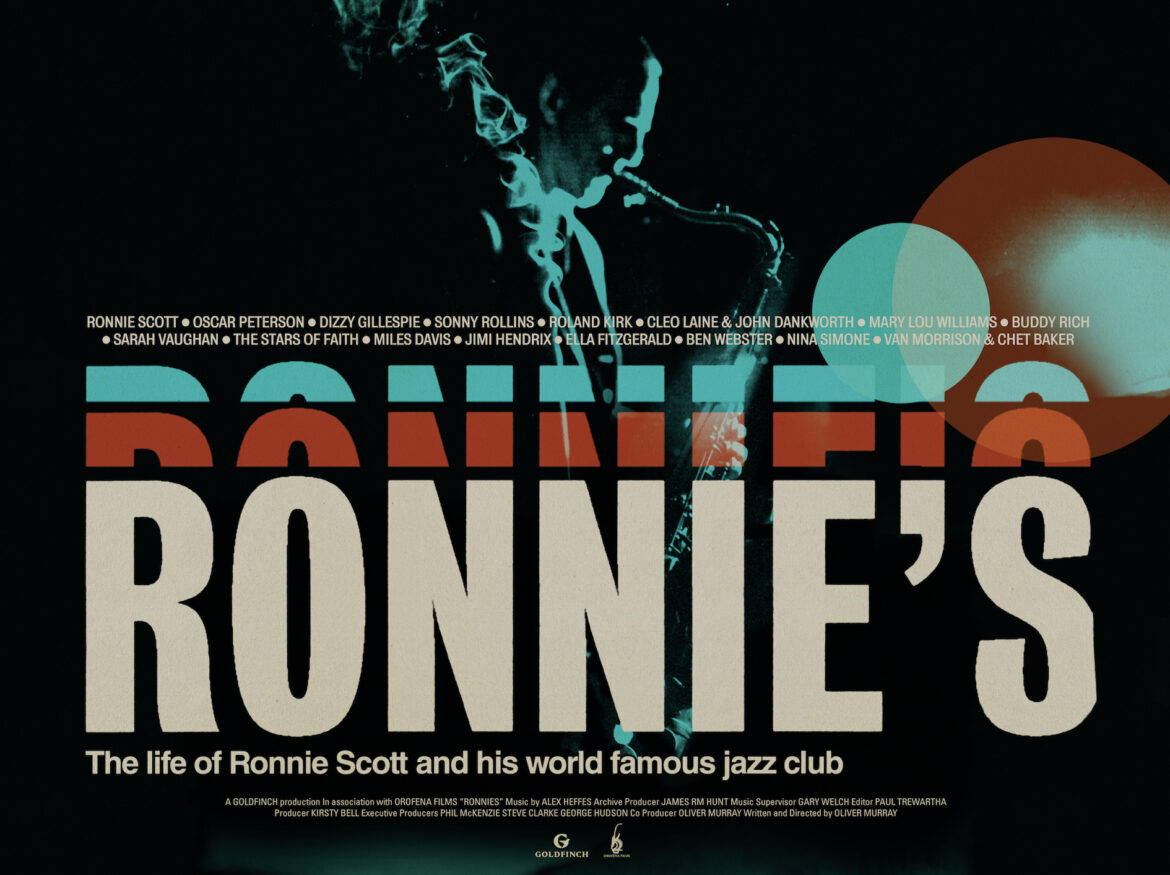 A fascinating story of the fabled Soho jazz club and review of the latest documentary film 'Ronnie's' by National Jazz Archive Volunteer Mike Rose.
At the end of 2018, the Archive received an e-mail from documentary maker, Oliver Murray. In the e-mail, Oliver explained that he was in the process of 'directing a documentary celebrating the life of Ronnie Scott and the importance of his club'. The intention was to have the documentary completed to coincide with the 60th Anniversary of the Club and its journey from the Gerrard Street club back in 1959 through to the Frith Street venue we all know today.
The Archive is regularly approached with requests from writers requiring assistance with finding source material, providing access to our rare journals, and aiding students to uncover information for their dissertations. In all, the Archive has received acknowledgements in more than 100 published books.
Requests, such as Oliver's, would normally be ably handled by the Archive's esteemed Research Archivist, David Nathan, a veritable walking jazz encyclopaedia. However, given that I could bring a personal angle to the enquiry (specifically with the early days of the Club in Gerrard Street), and with David's permission, I led on the research required.
In the early 1960s, I'd left secondary school clutching my GCE O' Level results. Utilising a contact with Denis Matthews, who ran student big band concerts that I attended (and who went on to publish the Crescendo magazine), I secured an interview as a sales advisor at the Paramount Instrument Company situated on Shaftesbury Avenue, Soho.
At that time, the renowned tenor saxophone player, Jimmy Skidmore, was taking time away from regular performing and was the showroom manager. Apart from Jimmy acting as a magnet for jazz musicians in and around the London area, my working day at Paramount was spent situated little more than 100 yards from the Ronnie Scott Club on Gerrard Street.
During my two years spent at Paramount, I had the opportunity to become acquainted with all the leading UK musicians which, as can be imagined, was amazing for a young, aspiring trumpet player and major jazz fan. Among the roll call of visitors were the young lions, Bobby Wellins, Dick Morrissey and Duncan Lamont, Jack Bruce in his pre-Cream days and the delightful and incredibly talented, Tubby Hayes.
On one occasion Tubby had called-in to check a consignment of American mouthpieces that had recently arrived. Like all sax players, Tubby was constantly searching for that magic combination of mouthpiece and reed which will take their playing to another level. As a trumpet player, I simply unboxed and handed each example for Tubby to try. As I recall, he didn't find the 'magic' combination that day.
As notable as these visits were, it was the times that Ronnie Scott would drop-in for tea that were the most enjoyable. On one memorable occasion he arrived while I was redressing the window display. Remembering that the store's frontage provided a kaleidoscopic view onto Shaftesbury Avenue and the passing pedestrians, Ronnie removed a tenor from a display case and stepped into the window area. He then spent fifteen minutes miming, 'How to Play the Saxophone', to a group of Japanese tourists who, when he'd finished, broke into spontaneous applause. Throughout this, I was hiding behind the store counter.
The early part of Oliver Murray's feature 'Ronnie's' contains a wealth of impromptu 8mm film footage, captured by Denis Rose (no relation) trumpeter, pianist, and member of the Club Eleven, the precursor to the Gerrard Street Club. Much of the footage was also utilised in the original 1985 BBC documentary 'The Street', about Archer Street in London's Soho, which can be seen above.
Personal memories sparked by Oliver's film included the sheepskin coat Ronnie is seen wearing, purchased (he told me) when on a rare occasion one of the horses he'd backed paid dividends. The other is sight of Ronnie driving his beloved Jaguar XK120 - Later on during my time working in Soho, I saw the Jag parked in Macclesfield Street across from the Club with a hastily written cardboard sign, which read: 'For Sale - £500 – Will Haggle!'. Just typical Ronnie.
As for the requested research for the documentary, appropriate material was located and passed on to Murray's researcher, Milly, including transcriptions of three interviews with Ronnie conducted by Les Tomkins for the magazine 'Crescendo' (the three interviews can be read online from the National Jazz Archive).
Detailed articles were also provided from the Archive's complete 'Melody Maker' archive and from copies of the Club's house magazine: Jazz at Ronnie Scott's edited by British jazz writer and jazz aficionado, Jim Godbolt. Many of the stills images used in the documentary, were provided by the Archive's official photographer, Brian O'Conner, whose personal archive is available to view online.
Ronnie Scott photographed by Brian O'Connor in 1979 at the Ronnie Scott's club
Fortunately (despite Covid-19 restrictions), I was able to see the finished film on the cinema screen and thought it an excellent piece of work. Whilst telling Ronnie's story, it covers in detail the relationship both with partner, Pete King and the many jazz greats they featured at Gerrard Street and later, at the Frith Street venue. The celebrity voice-overs provide insightful information and lend themselves to the action on screen. Where possible, musical performances are allowed to run their course and specifically those of Ella Fitzgerald, Van Morrison and Nina Simone are stand-out.
Towards the end of the film, Ronnie's depression is discussed by his close family members and friends. This section was dealt with sensitively, and in no way detracted from Ronnie's dignity. Oliver Murray has captured the very spirit of Ronnie and Pete, the Club over the years, and Soho throughout the past 60 years.
Whilst 'Ronnie's' has so far had limited cinema release, it will be available on DVD or to download or stream at some point. If you miss it at the cinema make sure you purchase the DVD – no jazz fan should be without this story.
Oliver Murray
Oliver Murray was born in Oxford, United Kingdom in 1985. He is a writer and director. He studied Fine Art at The Glasgow School of Art and Film & Animation at The Pratt Institute in New York City. His feature film debut 'The Quiet One' was released in 2019. His second feature film 'Ronnie's' received a nationwide UK theatrical release via Everyman Cinemas on October 23, 2020.
Extract from IMDb Mini Biography By:Rebecca McGregor
Other reviews of Ronnie's by theartsdesk.com and The Guardian.
Mike Rose