Back to the beginning with Bix
Posted on 3rd May 2021 by John Rosie
Roger Cotterrell takes a retrospective look at an evocative and engaging memoir by jazz writer Ralph Berton.
It takes real skill and talent to be able to evoke in print a completely vanished social world – like, for example, the so-called 'jazz age' in America in the 1920s. For all of us that is just history now and, while historians can tell us about it, very few can conjure up its atmosphere. Jazz memoirs written by musicians who lived in that time tell their personal stories, usually vividly if also often unreliably.
A lot of those memoir books came into British jazz fans' hands through the wonderful old Jazz Book Club which produced cheap editions of the stories of such as Sidney Bechet, Max Kaminsky and Willie 'the Lion' Smith. Some of my favourite reminiscences are those by or about guitarist Eddie Condon, filtered apparently through an alcoholic haze, and full of speakeasy wit and perhaps a fair amount of invention.
All these books are a good read, but the one that for me best evokes a mythical time called the jazz age is Ralph Berton's Remembering Bix. In part it is a hero-worshipping account of the author's brief, intense friendship with the legendary cornetist Bix Beiderbecke; in part it is a graphic account of what it was to be young and carefree as a hedonistic jazz fan and general hell-raiser in 1920s urban America.
I had known about Berton's book for many years but read it only recently thanks to the National Jazz Archive's regular book sale, which makes available such marvellous gems at extremely reasonable prices. The sale performs a great service by putting back in circulation classic jazz books donated to the Archive but duplicating its holdings and so available for resale to help National Jazz Archive funds.
My main love has always been modern jazz but various things have made me want to explore jazz's early history more. Archive volunteer Mike Rose's abiding love of Beiderbecke's music has been an influence. But actually just being actively involved with the NJA encourages an appreciation of the whole history of this wonderful music we call jazz.
As so many writers have said, when you listen to old, often poorly recorded 1920s performances, even the ones in dismally dated settings like Paul Whiteman's commercial dance orchestra, and you suddenly hear Bix cutting through with his pure tone, precise phrasing and often surprisingly modern conception, you recognise something unique, quite unlike most of the jazz of that era; something that still demands a hearing today.
In a sense, 'jazz age' is a term invented by white society to characterise not the new jazz music, which was being shaped primarily by black American musicians, but the great rupture of white urban popular culture, especially among the young (but often feared by the old), that followed World War 1. Remembering Bix tells about a period late in Beiderbecke's short life – he died of alcoholic poisoning in 1931, aged just 28 – when Ralph Berton, still a teenager, became friends with him.
The book describes Bix's curiosity to explore all music, his frustration at the limits of the jazz of his time and his halting efforts to make a strange synthesis of jazz and classical music – not on his cornet, but on the Berton family piano. But hardly any of Beiderbecke's piano experiments are preserved on record (his haunting 'In a Mist' solo is a famous exception).
Apart from the unforgettable portrait of sad, searching, disconnected Bix, who never really knew how (or maybe wanted) to survive in the uncomprehending world around him, Berton's book is also a great account of what it must have been like to be young, wild, white and male in the American jazz age: not thinking at all about the future, addicted to casual sex and plentiful booze; in love with risky fun, dancing, endless parties and jazz.
Berton later became a professional writer among other things. He idolised his elder brother Vic who was a celebrated drummer in the 1920s playing with Bix and others, and an amateur inventor who thought up an early version of the now ubiquitous hi-hat cymbal. Remembering Bix is written with an air of deep nostalgia for a lost age, innocent and dangerous at the same time; a time that was soon to be clouded with all the forebodings of a dark future after the 1929 Wall Street crash, then the rise of the fascist dictatorships and the shadow of war.
How true is the book? Berton published it in 1974, half a century after the period it recalls. So, like most of the other first-hand accounts that we now have about the jazz age, it tells a romantic story, laced with passing tragedy; tragedy usually treated in a nonchalant, offhand way, but with enough detail to get a sense of the occasional trails of destruction left after the happy times.
Black musicians occasionally put in fleeting appearances in the book and it certainly gives the impression that racism was no part of Berton's or his friends' outlook. But essentially the story is about early white jazz and its opportunities and problems. So there is only a partial story here.
But I recommend this book not only to fans of Bix Beiderbecke's still living, recorded music, the memento of his brief career, but also to anyone who wants to get some sense of what it might have been like to experience the jazz age as a wide-eyed youngster, when our music really was the newest thing around and everyone seemed to need to take a stand – either loving or hating it and everything it stood for – in a rapidly changing American culture.
'Remembering Bix' by Ralph Berton was first published by Harper and Row in the US in 1974, and WH Allen in the UK, and then republished by Da Capo Press in 2000 and is still in print.
Ralph Berton (1910-1993)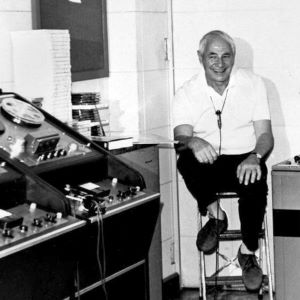 Born on December 24, 1910 in Danville, Illinois, Ralph Berton initially played drums but later pursued a career as a writer.
He was born into a Vaudevillian family. His father, Maurice, was a violinist and his mother Ida ran a boarding house for traveling vaudevillians. Berton was the youngest of three brothers. His middle brother Eugene, born in 1903, was a classical singer, concert pianist and musical theatre composer with whom Ralph collaborated on numerous musical theatre projects.
Ralph's eldest brother, Vic Berton, was a jazz drummer, percussionist and Hollywood music director of some renown and, according to Berton's account in his memoir, something of a surrogate father for Ralph.
In 1924, Vic Berton became the manager of Bix Beiderbecke's first professional band, the Wolverines and as a young teenager Ralph tagged along with Vic, Bix and the Wolverines. That experience became the basis of Berton's widely praised October 1958 Harper's magazine article, "Bix and His Lost Music." and his 1974 full-length book, Remembering Bix: A Memoir of the Jazz Age, also based on these earlier experiences (see above).
After his time with the Wolverines in the mid-1920s, Berton fell away from the jazz community for over a decade, pursuing, at various points, a career as an artist, a prizefighter, a screenwriter and a radio scriptwriter. In the late 1920s, Berton pursued a serious study of art, moving to Woodstock, New York where he became a student and life long friend of the Dutch abstract expressionist artist Wilhelm DeKooning.
In the late 1930s, Berton relocated to New York City where he made his living primarily as a radio scriptwriter. During this period, Berton was also active in writing scripts for the theatre, writing lyrics for popular songs and occasionally appearing on stage.
As Berton put it, he re-entered the world of jazz in 1938. Alone, lonely, unemployed and virtually homeless, for some time during the latter part of the Great Depression Berton was largely too preoccupied with finding a place to lie down and enough to eat to think about jazz or anything to do with creative arts.
Berton later referred to feeling that jazz was a pleasure he did not deserve until he "got his life together."
One summer night in 1938, he wandered by the Savoy Ballroom and chanced to hear Teddy Hill's band. Berton wrote of the experience: "I had literally managed to forget, in the years between, the shock and overwhelming impact of certain jazz musicians, the impact of my brother Vic's drumming, the sweet soaring buoyancy of Louis Armstrong, the drowning in Bix Beiderbecke's swinging imagery.
I found myself on my feet, next to the bandstand, and knew I had never heard a trumpet speak like this – the odd, insistent pushing on the beat, the completely unpredictable intervals as he found new harmonies in every bar, the enormous swinging of his piercing tone and low caressing register. It was that way when he played and I was beside myself.
I had forgotten, but his trumpet brought it all back, overwhelmingly. And when the set ended, I jumped up on the sand and stood in front of him. 'Jesus,' I said, 'who are you?' He looked me over, and smiled. 'They call me Little Jazz,' he said. 'My name is Roy. Roy Eldridge.'"
This encounter with Eldridge was an epiphany for Berton and a turning point in his life and the experience motivated Berton to actively promote jazz music from then on and for the rest of his life.
Within a year, he became one of the first, if not the first, jazz disc jockeys in New York City. Beginning this career on WNYC, he subsequently presented jazz programs on numerous stations and network shows on NBC and the BBC. During this period Berton, also began to write and lecture about jazz and he continued to proselytize for jazz in various ways for the rest of his life.
In addition to writing and lecturing about jazz, Berton used his position as a jazz disc jockey on WNYC to broaden his activity in the world of jazz in yet another way as a concert and jam session promoter and producer.
With his jazz-related activities in the post-war years, Berton continued to try to make money writing radio scripts and also began writing for the then-emerging television market. However, his income as a jazz critic, promoter and disc jockey, or even as a dramatic writer for radio or television was marginal at best, and for the rest of his life, his work as a free-lance advertising copy writer, technical writer and screen writer for industrial films formed the bulk of his income.
Berton was a contributor to 'Hear Me Talkin' to Ya', the oral history of jazz compiled by Nat Shapiro and Nat Hentoff, in 1955. As a critic, book, record, concert, film and theatre reviewer, essayist and short story writer in this period Berton contributed to American periodicals: Harper's, Cosmopolitan, Town & Country, High Fidelity, Metronome, Down Beat, FM, American Jazz, Jazz, The Jazz Record, Jazz Review, Jazz Quarterly, Jazz Times, Overlook, Record Changer, Swing, World, Village Voice, Akron Beacon-Journal, Saint Louis Post-Dispatch, Goldmine and Music Box.
His contributions to international publications include Bulletin du Jazz-Hot (Paris), Melody Maker (London), and Jazz Journal (London). In 1965, Berton became music editor of Status magazine and in 1965-1966, Berton functioned as the executive editor of Sounds & Fury magazine.
In 1961, Berton published "Conversations on a Bridge" in Metronome. This short story fictionalised Sonny Rollins' 'wood shedding' period when he had disappeared from public view. Berton carefully attempted to hide Rollins identity, changing his name and the location from the Williamsburg Bridge to the Brooklyn Bridge. Nevertheless, this piece was the first to reveal the lost Rollins' whereabouts and activities to the jazz public; it is considered one of Berton's most significant pieces on jazz.
In the late 1960s, Berton concentrated on his activities as a jazz educator, teaching courses in sociology and jazz appreciation at Bloomfield College and Middlesex Community College.
At the time of his death on November 17, 1993, Berton was working on a collection of memoirs of his encounters with notable jazz musicians, titled All Those Great Cats. Berton actively, though not successfully, sought a publisher for his memoirs until his death.
Besides Berton's life long obsession with jazz, his writing for the theatre, his fictional writing and his technical writing, one of his great passions was chess, often with such luminaries as Grand Master Larry Evans and jazz trumpeter Dizzy Gillespie.
Berton described himself as being "married" ten times, though he used the term loosely for all of his live-in lovers; three of these unions were legally sanctioned. Berton died at the age of 82 after living for many years with congestive heart failure.
A full biography can be found online for Ralph Berton from the Rutgers University Library, which holds the Ralph Berton collection. This biography is an edited extract from this account.
Photograph of Ralph Berton from the Institute of Jazz Studies, Rutgers University, Ralph Berton Collection.
Photograph of the Wolverine Orchestra 1923, from 'Wolverine Days', article by George L Johnson, Autumn edition of Swing Music, 1936. Copy digitised and held by the National Jazz Archive.
For further background: 'Ralph Berton: The Man Behind Radio's First Serious Jazz Music Program' June 1, 2012 by Andy Lancet, published by NYPR Archives & Preservation.